Gandalf Staffs from The Lord of the Rings

Lord of the Rings Swords and The Hobbit Movie Swords for sale. Buy these authentically detailed movie replicas from the actual film props by Weta Workshop of New Zealand. Made by United Cutlery, each item includes display and Certificate of Authenticity.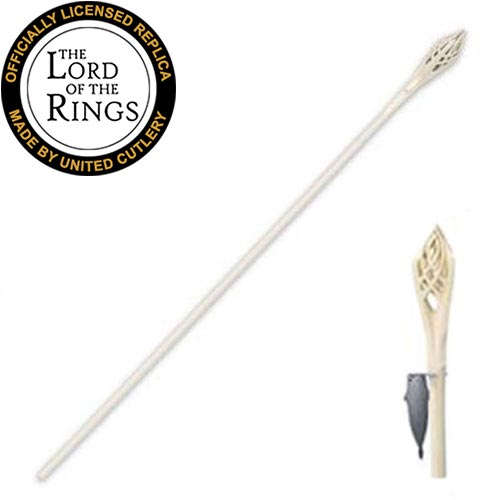 The Hobbit Movie Swords:
Gandalf Wizard Staff
Price: $139.99
Item Number: UC1386


One of the most powerful Wizards in all of Middle-earth, Gandalf the Grey joins the quest to reclaim the Dwarf Kingdom of Erebor and the great treasure that lies within its stone halls from a fire breathing dragon, Smaug the Terrible. Gandalf's staff appears to be a natural piece of wood, but the crown of the shaft holds something supernatural. Within the crown, the wood has grown around a hollow, white lattice-shaped bulb. The lattice is vaguely Elven in design, and holds a great power. At Gandalf's command, he can cause the crown to illuminate and light his way at night, or to spark a blue flame to ignite fire. The staff is also imbued with a great strength, allowing Gandalf to shatter stone with one strike. This authentically detailed replica is a reproduction casting of the actual filming prop built by the production Art Department in New Zealand and used in the motion picture, THE HOBBIT: AN UNEXPECTED JOURNEY. United Cutlery, industry leader in fine movie reproductions, has meticulously recreated the prop using only the finest grade materials and craftsmanship. Close attention to coloring and detail was a top priority. The polyresin Staff is 73" overall, featuring finely cast details and authentic hand painted coloring. It is presented with an Elven styled wall display featuring Gandalf's "G" rune, and includes a certificate of authenticity.
The Lord of the Rings
With over 100 million copies sold in over 40 languages, millions have grown up with "The Lord of the Rings," the classic epic tale considered by millions to be the greatest fantasy-adventure story ever told. J.R.R. Tolkien's phenomenal epic trilogy chronicles the struggle between good and evil for possession of a magical ring. The book trilogy, named the most popular book of the 20th Century, is the motion picture event of the 21st Century. "The Lord of the Rings" is presented in a trilogy of feature films from New Line Cinema, beginning with the blockbuster "The Fellowship of the Ring," and continuing with the 2nd film, "The Two Towers," to be released December 2002. A work of sheer invention on a staggering scale, "The Lord of the Rings" takes us back to "Middle-earth," an era that predates written history, where humans share the world with immortal elves, powerful wizards, and industrious dwarves.

Get the Officially Licensed Movie Swords



Lord of the Ring Swords