Sting Swords from The Lord of the Rings

Lord of the Rings Swords and The Hobbit Movie Swordsmade exclusively by United Cutlery. Brand new from the manufacturer. These officially licensed swords and collectibles include all accessories, displays and Certificates of Authenticity.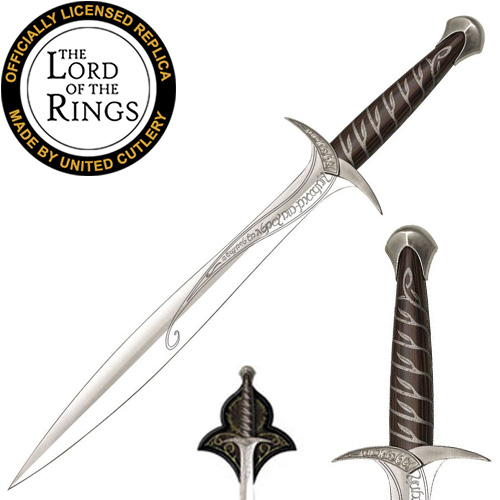 The Lord of the Rings Swords:
Sting Swords of Frodo Baggins
Price: $129.99
Item Number: UC1264




The epic trilogy The Lord of the Rings yields this officially licensed reproduction sword. This is Sting, the magical sword carried by Frodo Baggins on his quest through Middle Earth. Measuring 22" overall, the sword features a 15" blade constructed from 420 stainless steel, simulated wood handle with Elven vine design, and a solid metal guard and pommel with antique metal finish. Engraved on the blade and cross guard are runes in the Elven language of Sindarin that say "Maegnas is my name, I am the spider's bane." Includes display plaque with wood grain finish and Elven rune silk screen. Includes Certificate of Authenticity.
The Lord of the Rings
With over 100 million copies sold in over 40 languages, millions have grown up with "The Lord of the Rings," the classic epic tale considered by millions to be the greatest fantasy-adventure story ever told. J.R.R. Tolkien's phenomenal epic trilogy chronicles the struggle between good and evil for possession of a magical ring. The book trilogy, named the most popular book of the 20th Century, is the motion picture event of the 21st Century. "The Lord of the Rings" is presented in a trilogy of feature films from New Line Cinema, beginning with the blockbuster "The Fellowship of the Ring," and continuing with the 2nd film, "The Two Towers," to be released December 2002. A work of sheer invention on a staggering scale, "The Lord of the Rings" takes us back to "Middle-earth," an era that predates written history, where humans share the world with immortal elves, powerful wizards, and industrious dwarves.

Get the Officially Licensed Movie Swords



Lord of the Ring Swords