Sting Swords from The Lord of the Rings

Lord of the Rings Swords and The Hobbit Movie Swordsmade exclusively by United Cutlery. Brand new from the manufacturer. These officially licensed swords and collectibles include all accessories, displays and Certificates of Authenticity.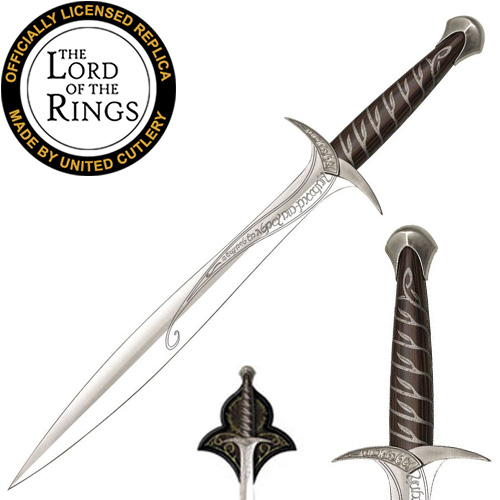 The Lord of the Rings Swords:
Sting Swords of Frodo Baggins
$129.99
Item Number: UC1264




The epic trilogy The Lord of the Rings yields this officially licensed reproduction sword. This is Sting, the magical sword carried by Frodo Baggins on his quest through Middle Earth. Measuring 22" overall, the sword features a 15" blade constructed from 420 stainless steel, simulated wood handle with Elven vine design, and a solid metal guard and pommel with antique metal finish. Engraved on the blade and cross guard are runes in the Elven language of Sindarin that say "Maegnas is my name, I am the spider's bane." Includes display plaque with wood grain finish and Elven rune silk screen. Includes Certificate of Authenticity.
The Lord of the Rings Movies
With over 100 million copies sold in over 40 languages, millions have grown up with "The Lord of the Rings," the classic tale considered by millions to be the greatest fantasy adventure story ever told. J.R.R. Tolkien's epic trilogy chronicles the struggle between good and evil for possession of "The One Ring".
The Lord of the Rings is a trilogy of feature films from New Line Cinema. Beginning with the blockbuster "The Fellowship of the Ring" continuing with the second film, "The Two Towers" and the third installment, "The Return of the King".
Set in the fictional world of Middle-earth, the films follow the hobbit Frodo Baggins as he and a Fellowship embark on a quest to destroy the One Ring, and thus ensure the destruction of its maker, the Dark Lord Sauron. The Fellowship becomes divided and Frodo continues the quest together with his loyal companion Sam and the treacherous Gollum . Meanwhile, Aragorn , heir in exile to the throne of Gondor, and the wizard Gandalf unite and rally the Free Peoples of Middle-earth, who are ultimately victorious in the War of the Ring.
The Hobbit is a trilogy of epic fantasy adventure films. Jackson's three Hobbit films together are imagined as a prequel to his earlier film adaptation of The Lord of the Rings.  Directed, produced, and adapted to film by Peter Jackson, based on J. R. R. Tolkien's 1937 fantasy novel, The Hobbit. The films are, "An Unexpected Journey"," The Desolation of Smaug ", and "There and Back Again".
Set in Middle-earth, the three Hobbit film prequels follow the hobbit Bilbo Baggins, chosen by the wizard Gandalf, to accompany thirteen dwarves led by Thorin Oakenshield on a quest to reclaim the Lonely Mountain from the dragon Smaug.

Officially Licensed Lord of the Rings Movie Swords



Lord of the Ring Swords