American Owned & Operated - 100% American Based Customer Service - Trusted for Over 28 Years
Lord of the Rings Swords Engraving
Lord of the Rings Swords and The Hobbit Movie Swords for sale are crafted exclusively by United Cutlery. These officially licensed movie swords are designed from the actual film props made by Weta Workshop of New Zealand. Choose from popular movie swords like the Sting Swords of Frodo and Bilbo Baggins, Anduril Swords of Aragorn, the famous Glamdring Sword of Gandalf the Wizard and more. Replicas from The Hobbit Swords collection include the Orcrist Sword of Thorin Oakenshield, King Thranduil Swords, Fighting Knives of Tauriel, Elven Swords, Staffs and other popular replicas. These officially licensed film collectibles include displays and certificates of authenticity. Buy the official Lord of the Rings and Hobbit Movie collectibles on sale now.
Engraving Services
To Order Sword Engraving:
Add the item(s) you would like engraved to your cart.
Add the Engraving Service(s) for the item(s) to your cart.
Checkout and complete your purchase.
When your order number is issued:
A link to the Engraving Form will appear.
Click the link and fill out the form for your engraving details.
Engraving Details:
After the order is completed, the Engraving Details Form needs to be filled out to complete the engraving request. This form can be accessed here as well: Engraving Details Form
Engraving Location:
Since each Lord of the Rings Sword has its own unique shape and style, each piece will be engraved differently. Some of the swords can be engraved right up the middle, while others will be engraved along the top or the bottom.

All engraving services are done in-house, so there are no additional delays in processing orders. Contact Customer Service directly for special requests after your sword engraving service is purchased.
You can contact Customer Service directly with any questions or special requests for your engraving here: Customer Service
Add Engraving Service $25
One line of up to 60 characters of text.
Engraved above the guard on right side of sword.
Reads from left to right.
Text color is black.
Assorted fonts to choose from.
Personalize each piece.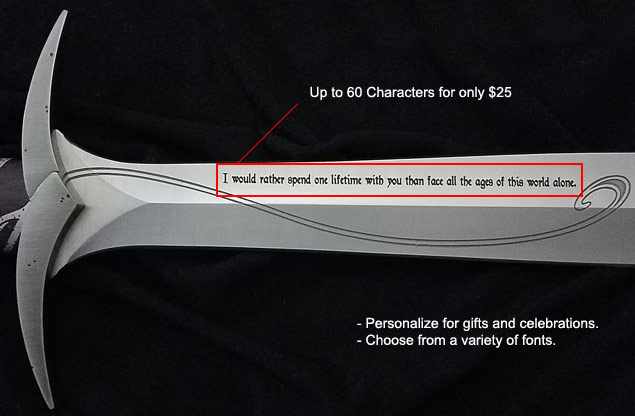 Custom Engraving Services - Engrave Up To 60 Characters For Only $25
Personalize For Holidays, Awards & Celebrations
Website Copyright 2002-2023, All Rights Reserved. Any duplication of this website, text, or images is strictly prohibited.