American Owned & Operated - 100% American Based Customer Service - Trusted for Over 28 Years
Narsil Swords of King Elendil
Lord of the Rings Swords and The Hobbit Movie Swords for sale are crafted exclusively by United Cutlery. These officially licensed movie swords are designed from the actual film props made by Weta Workshop of New Zealand. Choose from popular movie swords like the Sting Swords of Frodo and Bilbo Baggins, Anduril Swords of Aragorn, the famous Glamdring Sword of Gandalf the Wizard and more. Replicas from The Hobbit Swords collection include the Orcrist Sword of Thorin Oakenshield, King Thranduil Swords, Fighting Knives of Tauriel, Elven Swords, Staffs and other popular replicas. These officially licensed film collectibles include displays and certificates of authenticity. Buy the official Lord of the Rings and Hobbit Movie collectibles on sale now.
Official Narsil Swords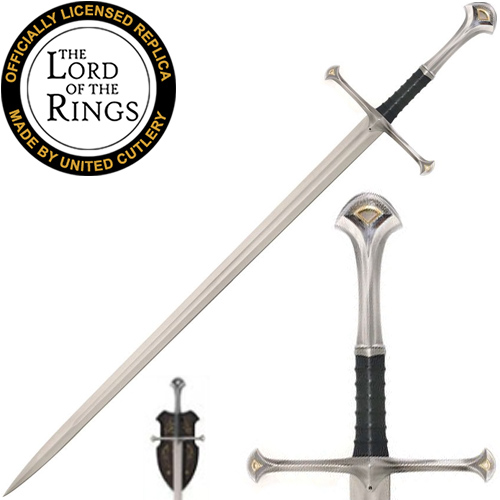 Lord of the Rings Swords:
Narsil Swords
Includes Wall Display Plaque
$259.99
Item Number: UC1267


Narsil Swords for sale are just like the one wielded by King Elendil in the Lord of the Rings movies. These pieces are exceptional replicas of the real movie props that were made by Weta Workshop of New Zealand for the LOTR films. These swords are crafted like the original Narsil, before King Elendil battled the Dark Lord Sauron and before the Narsil was broken into shards and forged into the Anduril. These Narsil Swords are robust, measuring 52 7/8th inches overall. They have a 40 5/8th inch, unsharpened 420 stainless steel blade with a Sindarin inscription. The handle is wrapped in real leather. There is 24kt gold plating on the fittings. The Narsil Swords have an antique silver-colored, solid metal cross guard and pommel. Made by United Cutlery, these officially licensed pieces include a certificate of authenticity. They include a wooden wall display plaque, mounting hardware and display instructions. Buy the popular Narsil Swords for $259.99.
Personalize this piece with Engraving

Custom Engraving Services - Engrave Up To 60 Characters For Only $25
Personalize For Holidays, Awards & Celebrations
Website Copyright 2002-2023, All Rights Reserved. Any duplication of website, text or images is strictly prohibited.