American Owned & Operated - 100% American Based Customer Service - Trusted for Over 28 Years
Gimli Battle Axes
Lord of the Rings Swords and The Hobbit Movie Swords for sale are crafted exclusively by United Cutlery. These officially licensed movie swords are designed from the actual film props made by Weta Workshop of New Zealand. Choose from popular movie swords like the Sting Swords of Frodo and Bilbo Baggins, Anduril Swords of Aragorn, the famous Glamdring Sword of Gandalf the Wizard and more. Replicas from The Hobbit Swords collection include the Orcrist Sword of Thorin Oakenshield, King Thranduil Swords, Fighting Knives of Tauriel, Elven Swords, Staffs and other popular replicas. These officially licensed film collectibles include displays and certificates of authenticity. Buy the official Lord of the Rings and Hobbit Movie collectibles on sale now.
Official Axe of Gimli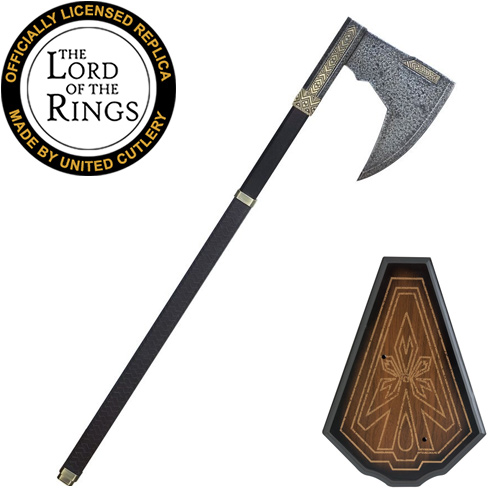 Lord of the Rings:
Bearded Axe of Gimli
Includes Wall Display
$229.99
Item Number: UC2628


Bearded Axe of Gimli from The Lord of the Rings. The dwarves carried many axes, but none as powerful as the Bearded Axe of Gimli. This replica piece stretches a massive 34" and supports an 8" axe blade. This authentically detailed axe is a reproduction of the prop featured in The Lord of the Rings - "The Fellowship of the Ring" - presented by New Line Cinema. United Cutlery, the industry leader in fine film prop reproductions, has meticulously recreated the actual filming prop. The blade is cast of a stainless steel and features gold engravings and a weathered steel finish giving it a battle-worn appearance. The replica was created using high quality materials and craftsmanship. Includes custom wooden wall display plaque. Buy the Bearded Axe of Gimli for $229.99.

Custom Engraving Services - Engrave Up To 60 Characters For Only $25
Personalize For Holidays, Awards & Celebrations
Website Copyright 2002-2023, All Rights Reserved. Any duplication of this website, text, or images is strictly prohibited.