American Owned & Operated - 100% American Based Customer Service - Trusted for Over 23 Years
Orcrist Sword Scabbards
Lord of the Rings Swords and Hobbit movie swords for sale are crafted by United Cutlery. These officially licensed movie swords are designed from the actual film props made by Weta Workshop of New Zealand. Choose from popular movie swords like the Sting Swords of Frodo and Bilbo Baggins, Anduril Swords of Aragorn, Daggers of Legolas Greenleaf and the famous Glamdring Sword of Gandalf the Wizard. Replicas from The Hobbit Swords collection include the Orcrist Sword of Thorin Oakenshield, Swords of Kili and Fili, as well as the giant Mace of Azog. The Fighting Knives and Bow of Turiel and King Thranduril Swords and Staffs are also for sale. These officially licensed film collectibles include displays and certificates of authenticity. Buy the official Lord of the Rings and Hobbit Movie collectibles on sale now.
Custom Laser Engraving Services - Etch Up To 60 Characters For Only $25
Personalize For Holidays, Awards & Celebrations - Services Can Be Added At Checkout
Official Orcrist Scabbards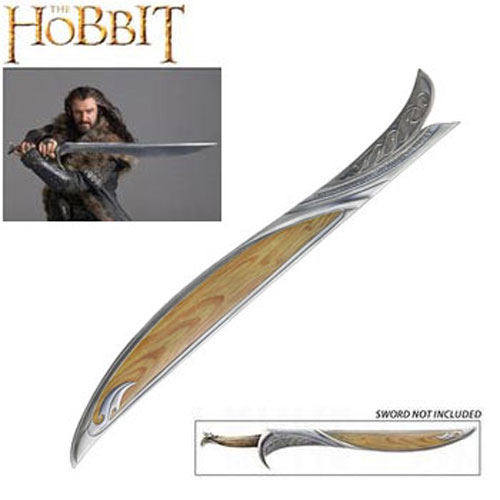 Hobbit Movie Swords:
Orcrist Sword Scabbards
$139.99
Item Number: UC2964


Orcrist Sword Scabbards made by United Cutlery. This authentically detailed scabbard collectible is an detailed replica of the actual filming prop from The Hobbit movie. The Orcrist Scabbard is crafted in poly resin with a metal and wood grain patterned finish, Elven vine and leaf motifs, a built-in belt loop, felt-lined interior and engraved runic inscriptions. Includes a certificate of authenticity for $139.99. Fits the official Orcrist Sword item #UC2928.

Website Copyright 2002-2018 NGW, All Rights Reserved. Any duplication of website, text or images is strictly prohibited.